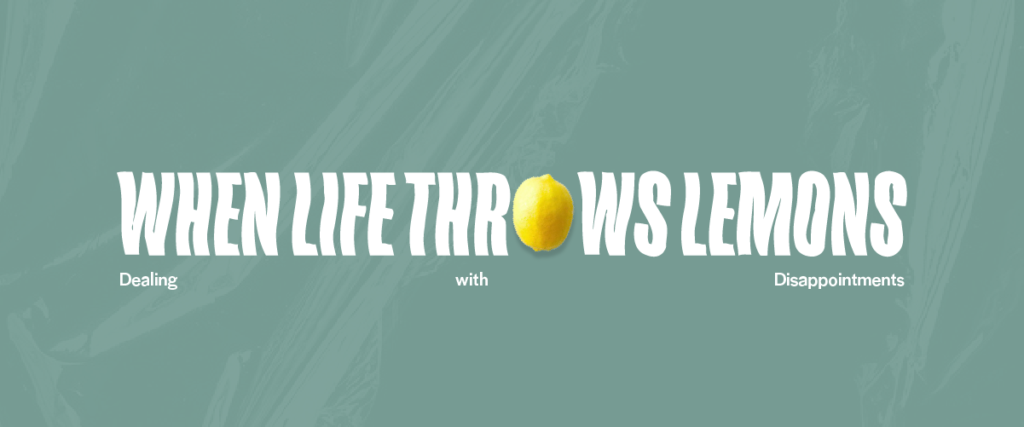 Imagine being asked to run a class on making lemonade, and in the period leading up to that class, life just keeps swinging lemons at you? I was asked by someone to write a post on dealing with disappointments, and in the week prior to my writing this, I had disappointing incidents happen to me one after the other. One of them in particular really made me relate to the psalmists in some of the Psalms of lament. I felt like telling God, you know, I've dealt with disappointment lots of times before, I didn't need a fresh experience to write on it! But ultimately, as always, God is far wiser than me, and there are some things I have learnt in this recent experience that will hopefully make this a better post than it would have been otherwise.
The first thing I'll say is allow yourself to grieve. Psalms 6 and 88 are just two of many Psalms that express that raw grief that comes from pain and disappointment. It is natural to feel hurt and upset when things don't work out. Cry if you want to, wail, shout, express yourself in the way you feel most comfortable doing so (without hurting others or yourself). It is okay to mourn a wish that didn't come true, a dashed hope, a realised fear which you hoped really won't happen. Proverbs 13:12a says "Not getting what you want can break your heart" (ESV). Job is a classic example of someone who really let out his thoughts and feelings, even cursing his birthday and wishing for death. He wasn't afraid to ask God some heart breaking questions, "Why have you made me your target? Have I become a burden to you?" (Job 7:20). And it can feel that way sometimes, especially when disappointment comes in waves. Be kind to yourself though, especially in such times.
However, while we can feel the sadness of a crushed hope, we don't have to wallow in our grief. We can know and understand that ultimately God's plan for our life can come to pass with or without that thing we wished for happening. We should not lose sight of the big picture, knowing that God sees the end from the beginning (Isaiah 46:10), He is ever-present despite the disappointment (Psalm 46) and nothing, absolutely nothing, can separate us from His love (Romans 8:31-39). We may never know what we have been spared by not getting the thing we wished for. There is a parable of a farmer called "Maybe so, maybe not" which illustrates this.
Maybe So, Maybe Not. ( Ancient Taoist Proverb)
One day, a farmer's horse ran away. His neighbors expressed sympathy, "What terrible luck that you lost your horse!" The farmer replied, "Maybe so, maybe not." A few days later, the horse returned, leading several wild horses. The neighbours said, "Your horse has returned, and brought more with him. What great fortune!" The farmer replied, "Maybe so, maybe not."  Later that week, the farmer's son was trying to break one of the wild horses and got thrown to the ground, breaking his leg. The villagers cried, "Your son broke his leg, what a calamity!" The farmer replied, "Maybe so, maybe not." A few weeks later, soldiers from the national army marched through town, conscripting all the able-bodied young men for the army. They did not take the farmer's son because of his broken leg. Neighbours shouted, " Your boy is spared, what tremendous luck!" To which the farmer replied, "Maybe so, maybe not."
As such, we can praise God even in our disappointment, and trust Him wholly and completely. I love this verse: "From the end of the earth will I cry unto thee, when my heart is overwhelmed: lead me to the rock that is higher than I" (Psalm 61:2). When the disappointment clouds our view and we can't see a way out, we can be with the Rock that is higher than us, and after expressing our frustration and heartache to Him, we can also take the time to be still in His presence and know that He is God (Psalm 46:10). In such times, when I have finally taken time to be still after all the turmoil, I have felt God's encouragement. As Psalm 34:18 reminds us, "The LORD is close to the broken-hearted; he rescues those whose spirits are crushed."
In times like these, it is vital to have a support network that we can lean on – Family, friends, church community, etc. I felt really encouraged and blessed by a friend who happened to "randomly" call me that weekend and she shared some testimonies which were a great encouragement to me as well. I say "randomly" in quotes because even though she hadn't known what had happened, her call that weekend wasn't an accident, and was a real blessing to me.
I also ask myself what I can learn from such situations. In a way, I view some disappointments (not all) as courses. If I learn something, then even if the disappointment resulted in a loss (say financial for instance), I see it as the 'course fee' so to speak. Siegmund Warburg said "Some name it disappointment and become poorer, others name it experience and become richer". It might also be worth doing some self-reflection to find out if there is anything we didn't do right, or we could have done differently. This might not always be the case, but could be worth pausing to reflect on. As Randy Bausch notes, "Experience is what you get when you didn't get what you wanted. And experience is often the most valuable thing you have to offer." There is value in truly learning from and utilising these experiences.
You might need to give yourself some time before this next step but, following the disappointment, is there a potential plan B? Ask God for his direction as you map out your next steps. Having a plan can help you move forward and allow you to be excited about something new!
I pray that in times when we feel the weight of disappointment like a heavy stone, we will feel God's comforting presence and love, and learn to trust in His will, plans, wisdom and timing. Even though it may feel dark and cold at the moment and the warmth of the sun feels so far away, remember God's promise that as long as the Earth remains, day will always follow the night, summer will follow the winter. One day, you will feel the sun smiling on you, and you, in turn, will smile again.
---
I'm Liv, a Christian, not perfect by any stretch of the imagination, but perfectly loved by God. In my walk with God, sometimes I stumble, sometimes I skip happily, sometimes I feel like I'm just about dragging myself along. Writing is my way of sharing the little pieces of learning I pick up along the walk. My hope is that it encourages you, makes you ponder, reminds you that you are not alone, and that you are loved (oh so loved!) by God.